The ancient country of Turkmenistan is a humble beauty locked in all sides with land and desert except on the west borders the Caspian Sea. It's a popular stopover in the famous Silk Road in mid-15th century and is full of ancient treasure troves amidst the Kara Kum Desert. It has a vast land area but only sparsely populated. Not a lot is known about this magnificent country so read through our list of places to see if ever you visit Turkmenistan.
MERV
The ancient city of Merv was one of the famous oases in the famed Silk Road and was considered the largest city in the world before it fell into ruins by Mongol invasion. The glorious city crumbled with almost all of its inhabitants swept in the carnage. But when UNESCO acknowledge the Ancient Merv as one World Heritage Site in 1999, efforts of uncovering the magnificent history was rewarded by an impressive archeological finds. Transportation is key when visiting the site and you can arrange it on the nearby city, Mary.
WEDDING PALACE
The most eccentric place where you can get hitched is this Wedding Palace in the city of Ashgabat. It is a white palace with the lower floors architecturally designed to be stars that do not overlap and the most unusual of them all is the huge globe disco ball enclosed in a frame that resembles the 8-sided Turkmen star. All 11 floors are composed of offices and venues for couples who wants to tie the knot legally, with the grandest wedding venue being in the middle of the colossal globe.
YANGKALA CANYON
Since Turkmenistan is not on the list of famous tourist destinations, only a few lucky tourists have seen its splendor. To those brave souls who wandered here and visited the Yangkala Canyon then consider yourselves very lucky. Across the desert is a place that looks like a vista from Mars because of its vibrant reddish hues and strange formation. Go up a rock formation called "Crocodile's Mouth" and get the best panoramic view of the whole canyon. You can also consider camping here to witness the glorious sunset and sunrise.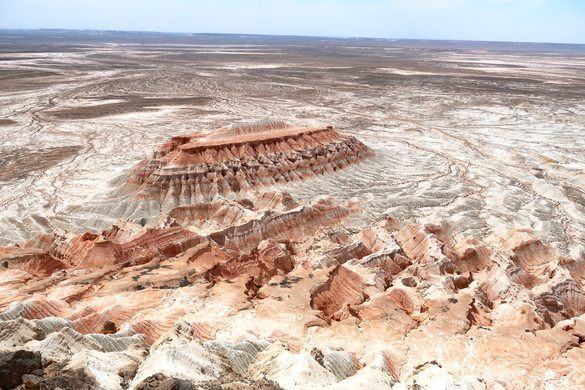 THE GATES OF HELL
This is probably the most famous place in the whole country but for sure not a lot of people who are aware of the Gates of Hell, really know that it is in Turkmenistan. For over 40 years, this 230-feet crater somewhere in the Kara Kum Desert had been continuously burning. A fire pit caused by a drilling accident had gained the moniker "The Gates of Hell". Its blaze doesn't seem to falter over the years and people trek to this remote hole just to see its intensity.
Must See Places in Turkmenistan