When it comes preparing for a formal event, the preparation begins with what to wear to grace the occasion. It's a lot easier if it's for a casual outing, but an official event requires one to dress to fit the occasion. So, the knowledge of the occasion can help put you in proper dress code alignment for the formal event.
Some of these events include;
Black tie events
Most of the great events welcome a dress code with Black Tie. A good knowledge of how to combine your wears with this to bring an exceptional appearance is your leverage. The diverse traditional Black Tie dress code types usually feature Warm Weather Black Tie with a white jacket instead of black. At times this combination may be engaged for a formal summer outing.
Once in a while if you have to attend events such as company award dinners, formal wedding, company awards dinners, evening wedding and other private dinners, you may be required to don a tuxedo.
At the moment, the standard remains a classic black tuxedo for these events. A typical tuxedo jacket would have a button with a single breasted design of a satin peak lapel. It must be without a vent. To complement all, it's compulsory to put on black patent leather oxfords as well as a black bow tie. With this, you're good to go, but in case you want to add more to your elegance, a nice looking white pocket square or a well-tied opera scarf will make the day.
Black Tie Optional
Well since all guests may likely not have a tuxedo, the guest may fabricate a dress code to incorporate everyone into the fun. This is the more reason why the heading uses the word "optional" in the title. At such events, a polished black suit is acceptable instead of the tuxedo.
Although a Black Tie Optional events have relaxed rules on the wears, it is nonetheless still formal in nature. You may still showcase your personal style with your accessories. Take note that a well-polished shoe and a good tie remains mandatory. In place of a bow tie, you may use a classic necktie with classy lapel flower or a good tie bar. Tie bar placement is very essential, and you may check out our tie bars ultimate guide especially if you love it. Most of the time, it is likely you find yourself in this category at formal dinners, weddings, stylish events including galas.
Black Tie Creative
Interestingly, the standard Black Tie variation enables the spirit of festivity to take full course at the party. Being creative with the Black Tie is a way to show what you've with your personal style. You can be able to showcase your accessories, color including collar as well as lapel style. You can come up with something unusual like uncommon shawl lapel.
A saturated maroon or midnight blue colored slim cut tuxedo is not a bad idea at all. It's not out of place if you take a colored wingtip shoe with a colored jacket. You may even bring in your creativity to the color of shirt, that is you may show up with a black colored shirt.Likewise in a category such as this, a bow tie that is light color is great.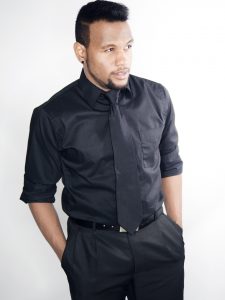 How men should dress for a formal event